Forgotten "Crawler" MLRS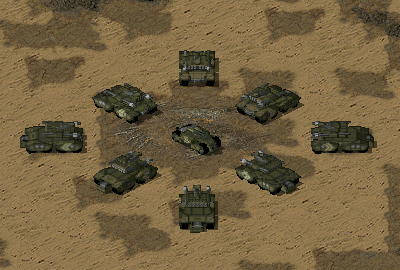 Strength:

High


Armour:

Medium


Speed:

Slow





*Obtained via capturing Mutant Bunker*




*Requires Sides Tech Center to use*



The Crawler chassis has been seen in multiple places is Europe and Asia, and due to the extreme versatility it is likely that these Crawlers will outlast their drivers. In areas where GDI has not imposed their own defence it falls to the civilians to defend their homes. In the case of the non-mutant population, this tends to require the standard civil policing designs manufactured by Main Resource Corporation (MRC) the developers of GDI's Ares among other things. Current GDI information suggests that the clans of the Forgotten do not possess the required funds to purchase designs, but do possess the abandoned manufacturing works and tools left behind by the original occupants.
The Crawler has been seen to sport half a dozen different turrets for many different jobs, but the most common seem to be the APC, MLRS, and Crane.
The MLRS is much lower to the ground than the APC or Crane variants, making it a more difficult to bombard from afar, but often necessary to do so. It is mounted with a rack of highly dangerous missiles which explode over the target area, littering the ground beneath with burning shrapnel. These firebombs have been used against both GDI and Nod targets, and any Crawlers seen in the field should be assumed hostile.

The number of locations in which these "Crawler" MLRS have been spotted is climbing as the materials used to produce them become more obtainable and blueprints spread between the clans. Only time will tell what effect this has on the battlefield, and even then any clever commander could use these to their advantage.