Yes, when I started this map I opened up FinalSun for the first time, in back in September 2006.
March of 2007, posted a preview, and it's really come a very very long way since then.

After a great deal of adjustments, monotony, failures, and successes - there were many times where i just wanted to scrap this map entirely.. but I kept with it, till now - I think it's finally ready for public release!

Behold the megamap: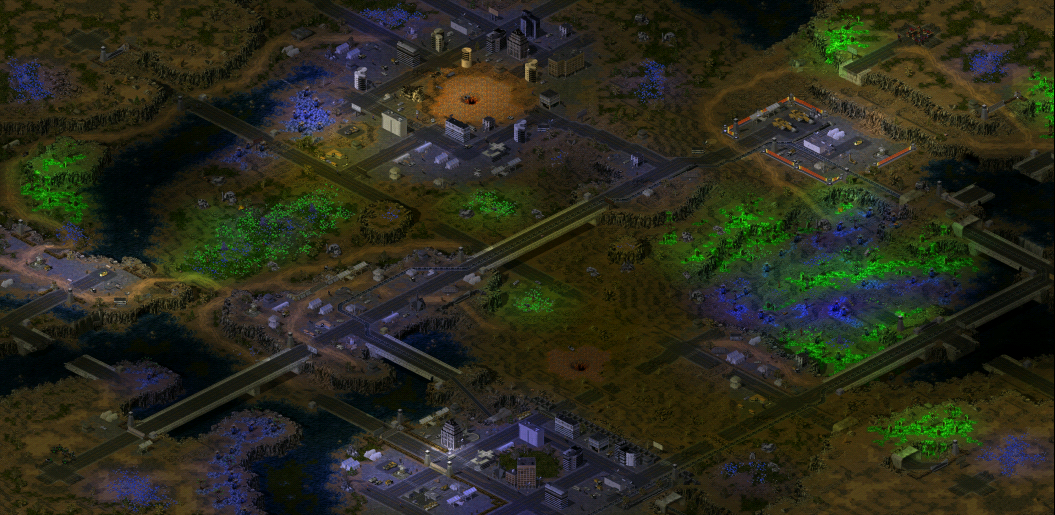 (last minute change - tib by player's bases is now green instead of blue)

This map is called "Siege City" for a good reason. As you will notice, all four players are in well fortified in each corner. However, there's limited tiberium by each base. In order to maintain a good economy, players must venture out into the larger tiberium fields, where their harvesters are more vulnerable. I've made several structures capturable, which players may use to extend the reaches of their base.
al of the Tiberian Dawn buildings (power plants will supply power - also keep in mind the TD buildings aren't repairable),
solar panels (supply power)
Civilian array (radar, and cloak detector)
Civilian armory (lets you build sandbags... lots of em)

You may also utilize the civilian air transports as you see fit - simply load up a tranport with 5 troops, and it will automatically fly to the next airbase and unload. The Chinhook transports travel in a clockwise direction around the map from base to base, and the orca transports travel counterclockwise.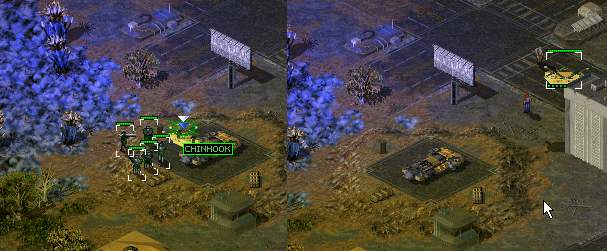 The civilians in this region are aware of the importance of maintaining a steady transit system. If the train in operation happens to be destroyed, another one will automatically take its place.



(no, bikes aren't equipped with core defender guns in the final version - that was just for testing
)

Features I wanted to implement, but ditched:
>This was originally going to be a TS:Retro map, using dropship/dropship bays as the civilian air transports. Firstly - I couldn't get it all to work properly, second - the map was crashy with Retro. Third - Retro isn't really that good of a mod anyways..

>I wanted the trains to carry & unload passengers. You have no IDEA what kind of mental pain and agony I went through trying to get this to work. What little I learned from all that mind grinding is posted in the train research topic.

>I wanted to implement a day/night loop where the mutants turned enemy at night, then ally at day.
I got a good day night loop going, but I couldn't get my trigger to spring correctly. Not only that, but my on/off day/night lightposts weren't even working the way I wanted. I figured, even if I were to put in this feature, I wasn't even really sure if it would be

good

for the gameplay aspect of the map. After much frustration, I deleted all the mutants, and the day/night triggers (which screwed up my trains, so then I had to play with those a bit to get em working again :wall: )

Now at 4AM Nov 4th, here it is at last. Enjoy


EDIT: Now updated to 1.35 as of the last edit. Fixed air transports, trains, tunnels, bridges, and every error I could find (thanks LKO for finding some errors
)

EDIT: updated links to tiberiumweb.org