We're back with another update showing visual updates, some redesigned stuff as well as an entirely new unit.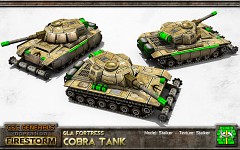 First, GLA Fortress General's Cobra Tank has been redesigned.
It receives an entirely new model and texture as well as a slightly different ingame role. The Cobra tank can now dig in to switch between a mobile and stationary mode. When stationary, its armor and attack range is increased. To further accentuate its defensive role, it now upgrades its armor from salvage crates, rather than its weapon.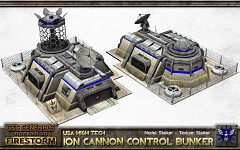 HiTech General's Ion Cannon Superweapon Building receives a visual update.
The new Ion Cannon Control Bunker model comes with new visual and sound effects for the Building itself as well some minor improvements for the actual Ion Cannon Superweapon.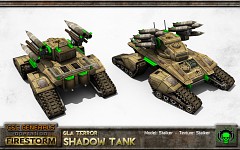 Last, GLA Terror General finally gets a heavier tank unit to use along his light vehicles to provide some more alternatives. The Shadow Tank is based on a very old concept that finally returns to OFS.
It is a stealthed rocket tank with high attack range and mobility, excellently suited for hit and run attacks against ground targets. It is well armored, but clearly outclassed in direct combat against other superheavy units.
The Shadow tank is available at Rank 3 in the Vehicle specialization tree (replacing Vehicle Armor upgrade). It costs 2500$ and it has a build limit of 5.
At the end of this update we want to thank everyone for voting! We made it into the top 100 again.
Now for the next voting stage we want to ask for your support one more time. So please click that button and have a nice day!