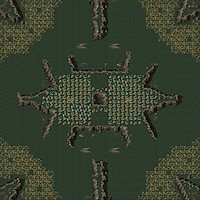 Keep Off Gunmans Turret


Type: Map
Game: RA1
Posted by: #footer_privacy_policy


Size 48 x 48
Total Money=225.940
Enjoyable as:
8 Player FFA
2 vs 2 vs 2 vs 2 (Pick corner spots and team up)
4 vs 4 (Top VS Bottom ; Left VS Right)

Mission:
Survive as long as you can. Fight for the hill. Be first to capture a Turret on the hill ...

Read more...