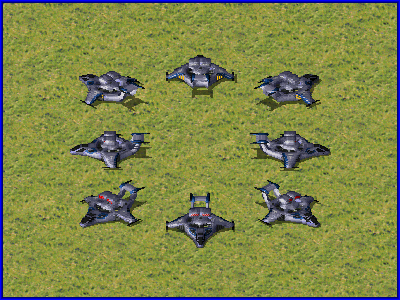 *Graphics & Cameo by Kerbiter



Skimmer MLRS




Affiliation:

Talon Ops


Weapons:

High-Explosive Rockets


Role:

Heavy Anti-Armor/Anti-Air Fire Support


Cost:

1500


Speed:

Fast


Armor:

Medium Plating


Hitpoints:

200


Movement:

Amphibious


Requirements:

Armor Facility or Naval Port & Tech Bureau


Additional Info:


- Replaces the Archer MLRS for the Talon Ops
- Can be produced in both Armor Facility & Naval Port

The Skimmer MLRS replaces the Archer for the Talon Ops arsenal. Upgraded to be able to move across land and sea the Skimmer offers additional anti-armor bombardment from both land and sea. The modifications made also allows the Skimmer to be available for production in both Armor Facilities,Naval Ports and the Naval Outposts fielded by the Talons Ops.