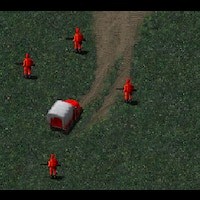 Side Ops Soviets Mission 01: Silencer


Type: Map
Game: RA1
Posted by: #footer_privacy_policy


Ml\u00e1dshiy leyten\u00e1nt,

Move the disguised food truck into position at the church and release the gas - but keep the village in tact.

Don't forget your respirator.

M\u00e1rshal Gradenko
Director of The People's Commissariat for Internal Affairs

Read more...