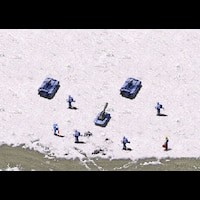 Side Ops Allies Mission 11: Air Supremacy


Type: Map
Game: RA1
Posted by: #footer_privacy_policy


After the failed nuclear strike on Europe, our assault on the USSR is underway. Soviet Frontal and Long-Range Aviation poses a serious threat to our invasion. We need to destroy an Air Force Base near Saratov, to stop the air strikes. Destroy the airfields...

Read more...