Hello everyone! In our latest news post, we have mentioned the Tiberian Sun 23rd Anniversary event, as well as the daily events that are happening between August the 22nd and 28th. Few hours before that post was created, there was a streaming featuring Tiberian Odyssey.

For those who are not familiar with it, Tiberian Odyssey is a modification of the Tiberian Sun that takes place 11 years after the events of C&C Tiberian Sun: Firestorm and portrays their vision of a greatly expanded Tiberian Universe. It will bring a brand new story told through an innovative and interactive campaign where your decisions as a commander will have a direct effect on the path you take and the outcome of the war. It also has new features such as; improved and reworked graphics, revamped sound effects, a completely new and original musical score, and a plethora of new dynamic maps featuring dynamic lighting and randomized weather effects along with multiple game modes! Tiberian Odyssey will be a 100% standalone game and will require no additional C&C games or discs to run.

And here's where you can watch a bit of it. If the movie below doesn't work for some reason, visit this URL:






And following the Anniversary's schedule, we also have a Tiberian Sun: Reborn game night right now. Friday, we'll have a showcase and tournaments for Tiberian Sun Resurrection, which recently released version 5.2 of their mod. On August the 28th, we'll have Dawn of the Tiberium Age's event, as we previously announced here.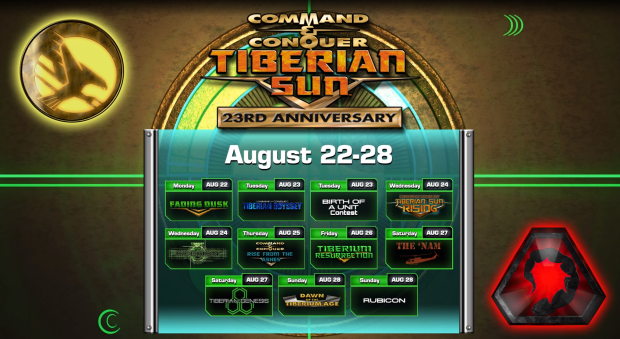 Have fun, and happy 23rd Tiberian Sun's Anniversary!