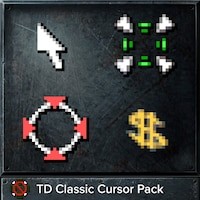 TD Classic Cursor Pack


Type: Mod
Game: TD
Posted by: #footer_privacy_policy


Replaces the remastered cursors with the original set, at 300% scale. Make sure to turn on large cursors in settings.

* Replaces the cursors with the classics, specifically from TD. The Remasters use a common cursor set based on RA. This set includes th...

Read more...