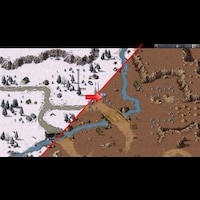 Reilsss's RA Desert Biome


Type: Mod
Game: RA1
Posted by: #footer_privacy_policy


Mod replaces the RA snow terrain, with the desert terrain, using the resources from tiberian dawn.

- The Mod replaces the HD graphics for Red Alert's Snow Terrain to look like the desert from Tiberian Dawn landscape.
- The Mod does NOT replace the non-HD ...

Read more...