We've now reached the end of the NATO remastered buildings series.
This time featuring Company of Generals style buildings, including but not limited to all new totally ORIGINAL NEVER DONE BEFORE machine gun emplacement and light field howitzer emplacement designs that you surely haven't seen before in this lifetime or another.
Apart from that, this update includes the only remaining building from vZH, the Particle Cannon, and mostly new
Patriot
NASAMS battery.
Now you might be thinking to yourself, "bUt I lOvEd ThE pIlLbOxEs." Sadly, Hunter's Pillbox has to go because of #NotLikeOtherMods. It's not like I wanna use your stuff, baka, but more seriously, I'm completing my original plan to replace vanilla/lent/placeholder stuff. I also have other plans in the future concerning defense stuff, so it's according to keikaku.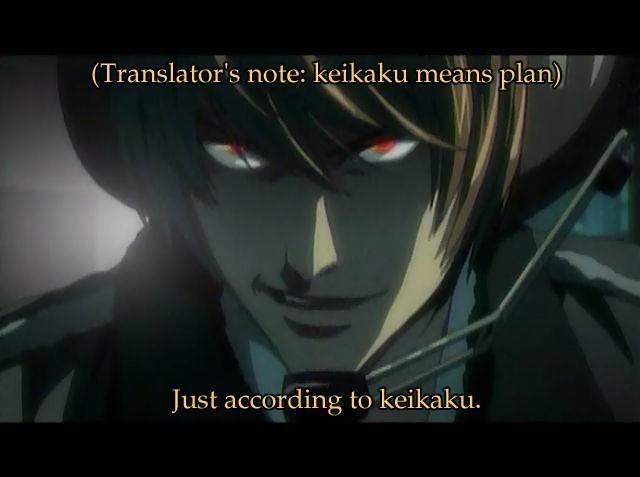 To begin with, the reworked Particle Uplink Cannon saw minimal updates like a rounder-shiny dome structure, shiny roofs and radar dishes, rounder fans, and 3D doors. The important concept to grasp here is that it's shinier and rounder.
As for the M240 MG Emplacement, it serves as an early rudimentary, inexpensive defense against early enemy infantry/light vehicle rushes. The catch here is that it works like CoH's MG defense because it has a limited firing arc, meaning that a well-maneuvered assault could bypass or outright destroy the emplacement. Visually speaking, it features an animated tarp, better black hole fading, and radius decal texture to indicate its firing arc when placed or ordered to show. Is that awesome?! Plz, guys, I need reassurance *distant sobs*
Speaking of M119 LFH Emplacement, on the other hand, it works like the previous update Strategy Center Bombardment Battle Plan howitzer in that it no longer automatically attacks an enemy, and you would need to order them to specifically fire somewhere. Visually, it also features animated tarps, actual howitzer and crews from the previous update, and, more importantly, many BARRELS. It can no longer garrison infantry. Controversial change, I know, you can cope with it, just like everything else in this mod. I swear it's not a total conversion! It's just a graphicz mode!
Lastly, on the more non-controversial side, we have the
Patriot
NASAMS battery. Why? You may ask. As you may or may not know, Patriot is actually a long-range anti-air system, while NASAMS is medium-short range. However, in vZH, it serves more as medium-short range than long range. So to maintain the balance of gameplay, Patriot will now be an entirely separate long-range anti-air unit while the vZH Patriot is replaced by a NASAMS battery, maintaining closely to its original role. The actual scale of both things also fits more nicely (Patriot is kinda large in real life.) Visually, NASAMS functions mostly like ZHE Patriot with animated barrel doors with a new turret and some clutter textures.
That concludes my inner introvert Youtuber non-sense speech. Thanks for tuning in. Stay tuned for in-game screenshots soon.
For more sane text, read below: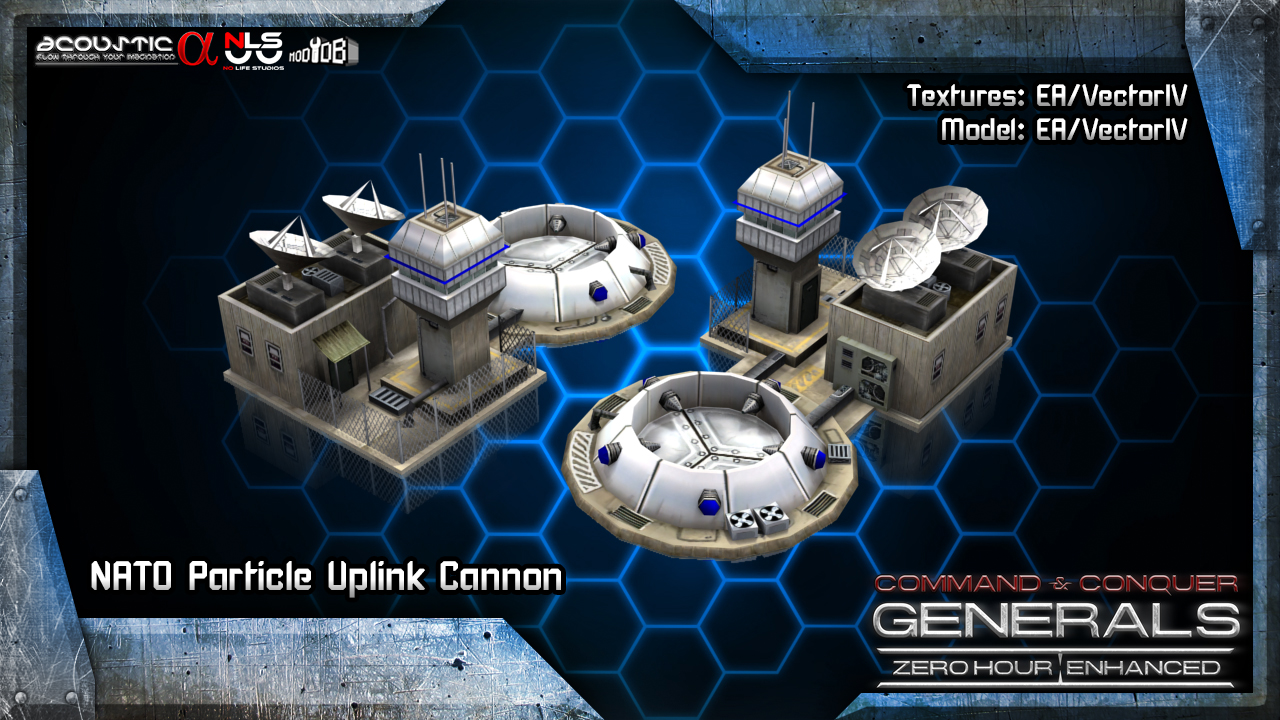 NATO Particle Uplink Cannon
The same old USA Particle Uplink Cannon with rounder-shiny dome structure, shiny roofs, and radar dishes, rounder fans, 3D doors, 3D vents, and animated tarp.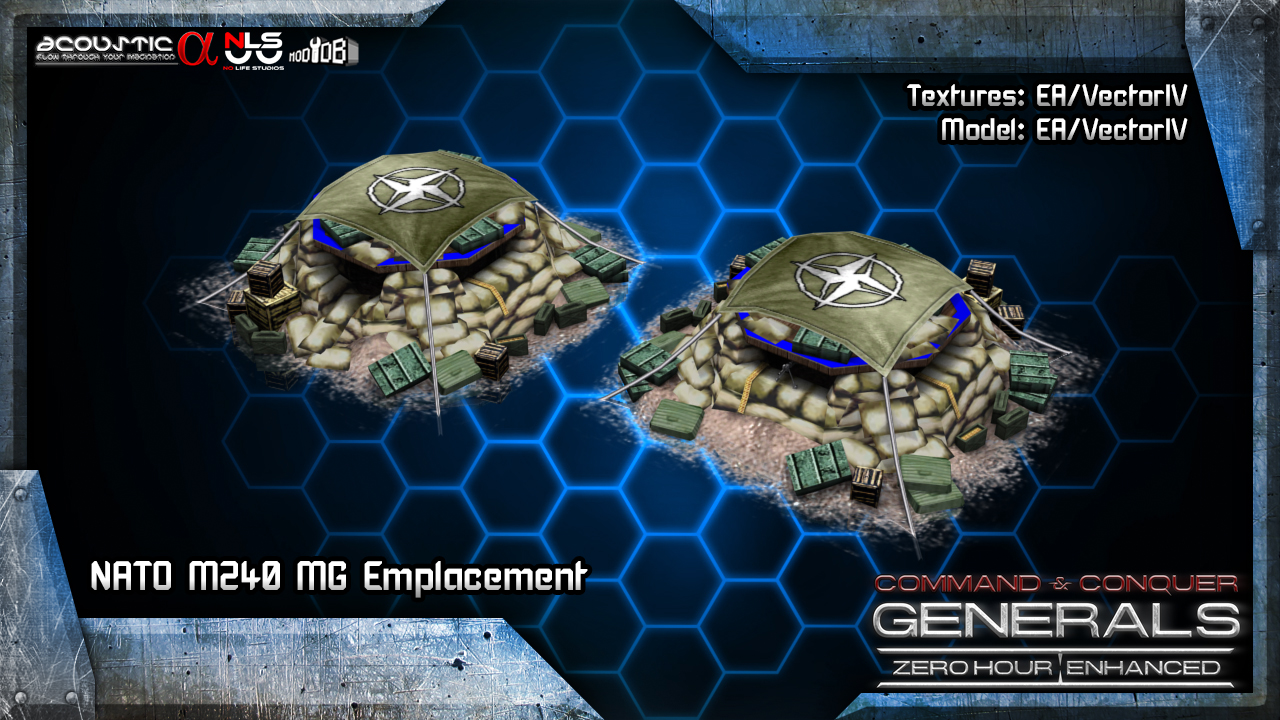 NATO M240 MG Emplacement
All new defensive structure armed with M240 general-purpose machine gun limited by frontal firing arc. Effective defense against enemy infantry and, to an extent, light vehicles when using armor-piercing munitions. Replaced Pillbox from previous ZHE version.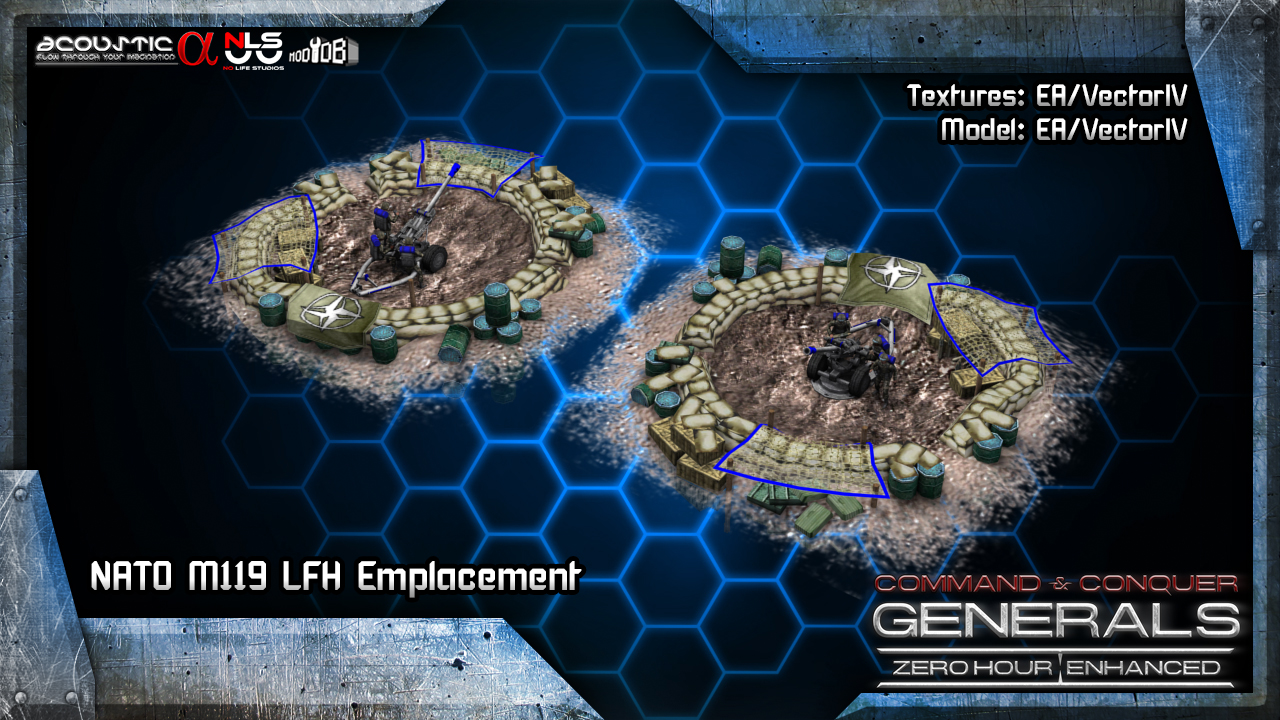 NATO M119 LFH Emplacement
All new defensive structures armed with M119 light field howitzer are mostly used for infantry support. Effective defense against enemy infantry and vehicles. Its secondary munition choice remains to be seen. Replaced vZH Firebase.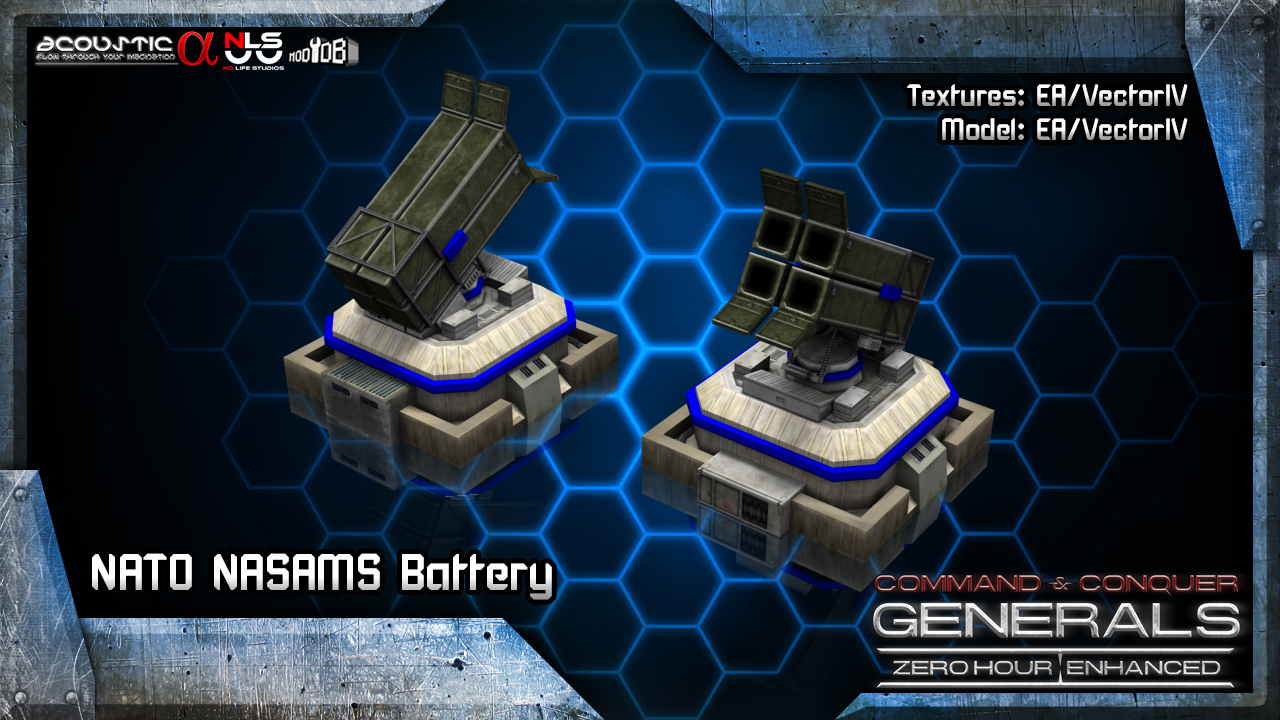 NATO NASAMS Battery
Mostly new defensive structure armed with four AIM-120 AMRAAM launchers. Effective defense against enemy aircraft and helicopters. Replaced vZH Patriot Battery.