Most work has been completed on the mod. There are only minor tweaks still needed.
Some of the main features:
- New unique super-weapons have been added
- All units have their own unique sounds (except some upgraded versions of existing units).
- The music from the original RA2 is included. HM3 is included.
- Many new weapons have their own visual and audio FX.
- Tech tree is based on the original RA2YR one and extended with higher tier structures, units, and defenses.
- The maxed old tech tree is now somewhere in the middle of the new tech tree.
- Base defenses can promote and have range indicators. Base defenses are added to complement the existing ones for each side.
- Countries have more specific units, advantages, and tactics. There are plenty of options to fit any play style.
- There are plenty of secret new units and structures that require stolen tech and can give you the edge in combat.
- All sides have airfields and specifically related units.
- Single-player missions are fully supported and improved, containing the new mod units. They also have some nice new secrets.
- All sides have improved ways of obtaining resources and/or reducing production costs.
- Multiple units from each side can garrison buildings.
- The multiplayer of the game is balanced, with each faction having specific advantages. Learn to exploit and use them.
- There are art improvements of some units, including arctic versions of some infantry, and some fixes of legacy items.
- There are a few stealth units in the game and sufficient units with stealth detection.
- There are multiple tiers of naval units for all sides. Yuri now has a full naval force at his disposal.
- New IFV modes
- A nice Yuri intro cinematic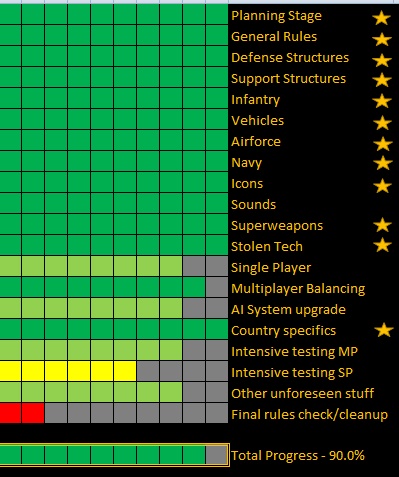 Above it's the progress report. At this point, a full version can be released!