Hello everyone, SMxReaver returning from the deep abyss of more mental health hell to return to the project! During the beginning of 2022, I ended up experiencing some pretty realistic life burn-out between college, being a dad, and trying to find a reliable source of income. Now that (most of) these issues are being managed in a healthy way, it's time to return to hobbies that helped keep me sane in the first place.
There are three major goals I plan to achieve coming in Final War 3.0 this December, and while I won't go into too much detail about each goal in this post today, I will at least generate an outline for excitement.
Our first major goal, and one I'm sure many have waited on for a long time, is the
campaign feature!
The launch on Dec 23 will feature the first three missions, dubbed the prologue that will introduce the major factions and the events that lead to their creation. Included also will
singleplayer variants
of the current co-op missions that will be found in version 3.0 to help fill out the singleplayer mission content while the campaign is developed.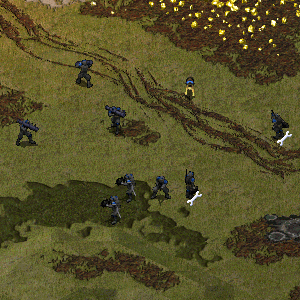 New EuroCoal Infantry provided by DaFool.
The second major goal of Final War 3.0 is going to be the visual and balance updates. Infantry sizes are being increased. The animations will continue to be improved and updated to improve the feel of each weapon, giving all of the fun weapon systems featured on units a fitting effect, from leaving the muzzle to impacting the enemy. Each individual unit has been fine-tooth combed over and rebalanced around a more reliable damage system, also known as a much better rebalancing of the mod's damage types.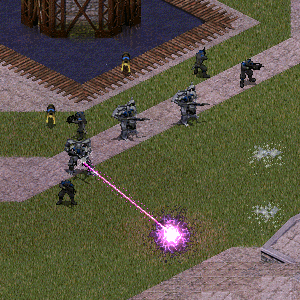 New 'Spectrum' weapon update
The third major goal for Final War 3.0 is to be able to finally bring the product I've always envisioned to your mouse and keyboard. There will be some tech tree tweaks, some new behind-the-scenes features provided by Phobos to improve the user experience, and also change some current modding techniques I used to be more reliable, currently a problem in the public version available. Each change is being meticulously tested and balanced, making sure that there are no bugs or missing features on the launch!
I'm pretty bad at this one, so it'll be an even larger emphasis this time, I swear hahaha.


Story teaser! Bwahahaha!
I hope that helps fill in some of the curiosity that has been sitting around the project, and those who noticed the retirement image disappeared were right to guess that a revival was currently in the works!
For now, that's all I have to offer in this update. Expect more articles as updates this year, as I want to experiment with a different way to display new content in the project. Signing off, for now, enjoy this new year and get to knocking out those New Year resolutions!