First,
check out the post for the first 5.0 alpha build
to read about all the latest changes, additions, and fixes. There's a lot!
We're now at the
beta
stage for this release, which means 5.0 is feature-complete, translations are complete, and all that's left is to squash any outstanding bugs.
If you find any bugs it is very important for you to report them!
Do not assume that a bug has already been noticed or will be fixed.
This build is available via the built-in updater as long as you have opted-in to pre-release updates. From within
Settings -> Updates
, enable "Also check for pre-release (beta) versions of paint.net" and then click on the
Check Now
button. You can also use the links below to download an offline installer or portable ZIP.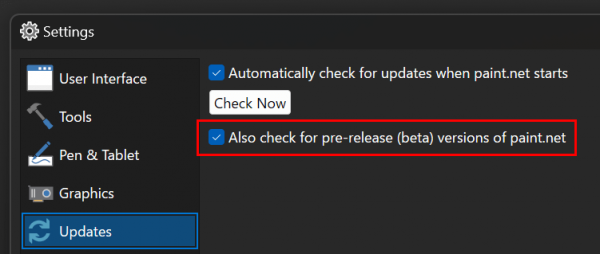 The main change in this build is with respect to how Gaussian Blur and Bokeh implement gamma. Prior to this release, Gaussian Blur always operated in linear (1.0) gamma by default, which can crush highlights, while Bokeh defaulted to 3.0 for aesthetic reasons. Now they both default to sRGB (~2.2) gamma, which means these effects now operate correctly with respect to gamma. Over time I plan to extend this to other areas of Paint.NET, so stay tuned!
Here's what the new Gamma options look like for Gaussian Blur and Bokeh: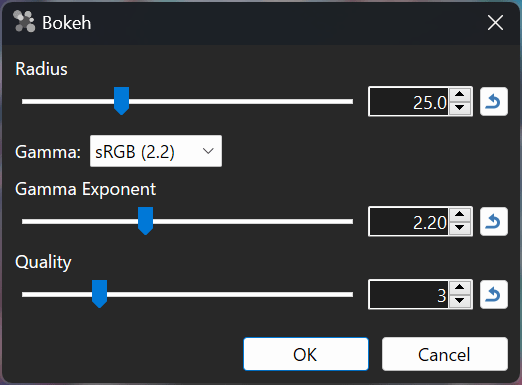 Changing the Gamma dropdown to sRGB (2.2) or Linear (1.0) will automatically set the Gamma Exponent slider to 2.2 or 1.0, respectively. For Gaussian Blur, a gamma of Linear (1.0) is equivalent to previous versions of paint.net.
Changing the Gamma Exponent slider will automatically set the Gamma dropdown to Custom. However, if the Gamma Exponent lands on 1.00 or 2.20 exactly, the Gamma dropdown will be updated to be Linear or sRGB, respectively.
The relationship between the dropdown and the slider is implemented using the new
SetTargetWhenSourceEqualsAnyValueRule
. I can provide a sample code if someone asks for it.
GPU effect plugins that wish to implement a gamma-correct rendering (esp. important for blending and sampling) should apply a
SrgbToLinearEffect
on the input images and then use the
LinearToSrgbEffect
as their output. You can also use
GammaConvertEffect
, which lets you choose between SrgbToLinear, LinearToSrgb, CustomExponent, and InverseCustomExponent (this is what Gaussian Blur and Bokeh use).
Changes
Here's what's been fixed or changed since
the previous build (5.0 beta build 8401)
:
Downloads
Download the installer here
(for any supported CPU and OS). Offline installers, portable ZIPs, and deployable MSIs are
available over on GitHub
.
System Requirements